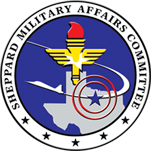 Founded in 2005, Sheppard Military Affairs Committee (SMAC) is a non-profit organization of community leaders and concerned citizens whose primary function is to help protect the future of Sheppard Air Force Base, and to not only maintain, but strengthen our base/community cooperative relationship between the community of North Texas and Sheppard Air Force Base military and their families.
This collaborative relationship is accomplished through information sharing, special events, identification of important resources and opportunities, and other forms of civic partnership.
SMAC is a 501 (c)(3) non-profit organization that is funded through public, business and individual donations.